Thread Lift
Facial Threading + PDO / Nova Threads
Lift and tighten your face with minimally invasive facial threading. Thread lift is a nonsurgical facelift procedure that is a very popular alternative to plastic surgery or dermal fillers. We use Nova Threads and PDO threads to perform various treatments such as a thread facelift, face tightening, cat-eye, nose lift and brow lift. All facial thread procedures are performed by an experienced MD physician.
Concerns: Loose sagging skin, wrinkles
Treatment Time: 45+ minutes
Longevity: 8-12 months
Cost: $1,200 - $3,500
Brands: PDO Threads, Nova Threads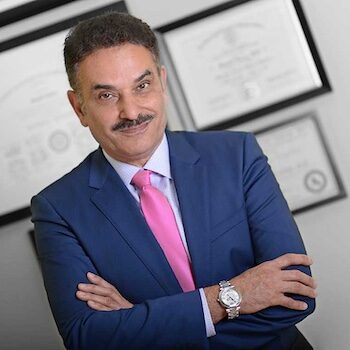 Dr. Tamiry
Dr. Tamiry specializes in nonsurgical aesthetics treatments for beauty enhancement and anti-aging. He is passionate about helping men and women achieve new levels of natural beauty and confidence.
Dr. Tamiry has been practicing medicine for 20+ years and has operated his premier medical spa in Newport Beach since 2015. He is an active member of the American Academy of Cosmetic Surgery and the AMA.
Before & After Results
Results from real thread lift patients in the Newport Beach + Irvine area. Your results may be different from those pictured. 
Is a non-surgical facelift possible? With a thread lift, people who are looking for non-surgical options to help them put a fresh face forward can skip the scalpel without skipping noticeable results. This is a fast, non-invasive and affordable alternative to facelift surgery that is leaving both everyday people and celebrities with rejuvenated, lifted and toned skin.
A thread lift actually helps the skin to look younger in two ways. First, temporary sutures are placed under the skin to create a visible lift that is comparable to the results that would be seen with something like a traditional facelift. The threads placed under the skin often have tiny sharp points that use gripping to achieve that lifting, tight look. The difference between a thread lift and a more invasive procedure is that a thread lift is simply "pulling up" excess skin instead of cutting it away.
While the real-time lifting effect of a thread facelift is impressive for creating instant visible results, this actually isn't the only benefit of threading. That's important to know if there is a concern that threading is merely a "temporary" fix for sagging facial skin. The facial threads used in this procedure actually trigger the body's own healing process from the inside. As a result, the body begins to produce a large amount of collagen that gets directed to the threaded skin as part of a natural healing response. That means that the threads are causing your skin to intuitively turn back the clock to ramp up collagen production to create a much smoother and softer appearance.
‍While threading results aren't permanent, threading is a quick procedure that creates long-lasting results. Each threading procedure typically takes under an hour. Most people are able to return to work or other duties almost immediately without any issues. Generally, it takes about six months for all of the threads used in a threading procedure to be fully absorbed by the body. That big rush of collagen that is being sent to the skin improves firmness, texture and appearance for up to a full year.
‍A thread lift can be tailored to lift your whole face or focus on a target area. The common focus areas for threading are the forehead, jowls, eyebrows and eye region. With a thread brow lift and eye thread lift, the focus is on creating a more alert, wide-eyed look. A thread neck lift combined with a jowl lift is also quite common for people looking to combat the effects of gravity that seem to pull down loose skin in the bottom portion of the face.
Threading is similar to options like Botox and fillers in the way that it can be done so quickly and easily. This is an in-office procedure with very minimal recovery and downtime needed. A non-surgical facelift uses PDO threads that are composed of a dissolvable material called polydioxanone that is commonly used in medical sutures for all types of procedures. The most common type of PDO threads used are FDA-cleared, fully absorbable sutures called Nova Threads.
If you're concerned that a thread facelift won't produce the dramatic, long-lasting results that you want, a traditional facelift may be a better option. Keep in mind that the main reasons why people are looking to improve facial firmness pivot to the thread facelift is that they want to avoid the high cost and surgical nature of a facelift. However, this is ultimately, simply the best option based on the goals of some patients. It's also possible to bring down the cost and recovery time of a facelift simply by doing a lower facelift that only addresses problem areas in the bottom third of your face. On the other end of the spectrum, a full-lift procedure can cover everything from the brow to the neck.
‍
For some people, fillers are preferred over sutures. Popular fillers like Restylane and Juvéderm relax and plump the skin using hyaluronic acid. These fillers can actually be used to do facial sculpting by lifting sagging skin and building up the volume in strategic points. Generally, Botox is used in conjunction with fillers to help smooth out wrinkles. A procedure that combines several types of injectables and fillers is often referred to as a "liquid facelift." Like threading, a liquid facelift delivers non-permanent results.
Building on the concept of fillers, a facial fat transfer uses your own fat to build volume in the face. The fat used for these fillers is acquired through a liposuction procedure. The benefit of a facial fat transfer is that results often stay in place for ten years or more.
Collagen stimulation is another option for people looking to restore smoothness and volume while avoiding surgery. With collagen stimulation, a variety of injectables and ultrasonic treatments are used to stimulate the body's own natural collagen production. Generally, you're looking at what can be described as subtle results that last for anywhere from a few months to a couple of years.
Thread lifts have been popularized by celebrities of all ages in recent years. Thread lifting is a natural fit for people in the public eye because it allows them to improve appearance without the need to disappear for a recovery period. Threading also doesn't drastically alter the composition of the face the way a more invasive, intensive surgical procedure might. Gwyneth Paltrow famously gave her endorsement of cosmetic threading when Goop highlighted the beauty treatment as a must-try procedure. Influencers like Kim Kardashian and more are also using threading to achieve that pulled-back, high-and-tight cat-eye look via a nonsurgical brow lift.

1000 Bristol St N #21
Newport Beach, CA 92660
DISCLAIMER: Individual results may vary between patients and your results may be different than those pictured. Dr. Jamshid Tamiry is a licensed physician in the state of California. He will discuss treatment options with you along with cost and potential side effects during your in-office consultation. The content on this website is intended for informational purposes only and is not intended as medical advice, diagnosis or treatment. We practice in compliance with the Medical Board of California. (800) 633-2322 – mbc.ca.gov
Hautspa Medica is a medical spa located in Newport Beach, California. We regularly serve patients from surrounding areas in Orange County including Irvine, Costa Mesa, Santa Ana, Lake Forest and other nearby areas in Southern California.