Under Eye, Cheek & Brow
Under Eye Fillers + Cheek Fillers + Brow Lift
Under Eye Filler treatment fixes dark circles or deep hollows under the eyes. The tear trough area is one of the first and most obvious places to show aging in most people. Cheek Fillers treatment will lift and add volume to the mid-face. Brow Lift raises the eyebrows with precision injections to produce a bright, youthful glow around the eyes. All treatments are nonsurgical and performed by an MD physician.
Concerns: Lost volume, hollow tear trough, dark circles, sunken cheeks, uneven brow, poor definition
Treatment Time: 30-40 minutes
Longevity: 12-24 months  
Cost: $800 and up
Brands: Juvederm, Restylane, Voluma, Botox, PDO Threads
Before & After Results
Results from real patients under eye fillers, cheek fillers and brow lift treatments in the Newport Beach + Irvine area. Your results may be different from those pictured.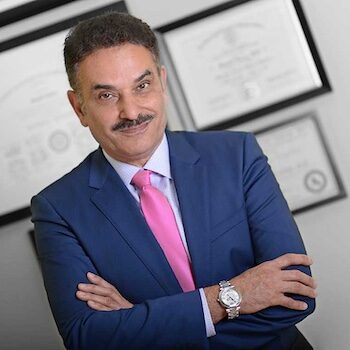 Dr. Tamiry
Dr. Tamiry specializes in nonsurgical aesthetics treatments for beauty enhancement and anti-aging. He is passionate about helping men and women achieve new levels of natural beauty and confidence.
Dr. Tamiry has been practicing medicine for 20+ years and has operated his premier medical spa in Newport Beach since 2015. He is an active member of the American Academy of Cosmetic Surgery and the AMA.
The 'tear trough' area under the eyes is the first to show signs of aging for most people. Dark circles, hollow or sunken eyes are common. Alternatively, many people are dissatisfied with frown lines and the shape of their brow. Others want to reduce wrinkles and 'crows feet' around their eyes. Deciding the best treatment depends on skin damage, texture, bone structure and fat volume around the eyes. Getting a natural looking correction is done be careful application of hyaluronic acid fillers and other techniques. Because it is such a sensitive area, it's important to have tear trough filler treatment performed by an experienced physician.
Dr. Tamiry helps patients achieve natural looking results and refresh the under-eye area with hyaluronic acid fillers. Tear duct fillers are the safest option for tear duct fillers, wrinkle reduction and brow lifts. This treatment is a temporary solution that allows patients to continue or stop treatment, depending on their satisfaction with the results. This procedure is non-surgical.
Brow lift procedure creates a more refreshed, youthful appearance by elevating the eyebrows to brighten the eyes and restore a full, balanced shape to the brow line.
A brow lift, otherwise known as an eyebrow lift, is a non-invasive procedure that raises your eye brows with Botox or Dermal Fillers. A brow lift enhances the appearance of your eyes, making them brighter and more youthful lookin. 
You may be a good candidate for a brow lift if you have a low, drooping brow or brow asymmetry. 
Cheek fillers treatment uses cosmetic injectables that are FDA-approved to lift, sculpt and add volume to the mid-face, enhance cheekbones and produce a lifted, defined look to the cheeks.
An alternative to cheek implants (which are a plastic surgery procedure) cheek fillers are a minimally invasive alternative for cheek augmentation. 
Cheek fillers treatment create higher cheekbones and fuller-looking face, and are most commonly performed using hyaluronic acid-based dermal fillers such as Juvederm Voluma.

1000 Bristol St N #21
Newport Beach, CA 92660
DISCLAIMER: Individual results may vary between patients and your results may be different than those pictured. Dr. Jamshid Tamiry is a licensed physician in the state of California. He will discuss treatment options with you along with cost and potential side effects during your in-office consultation. The content on this website is intended for informational purposes only and is not intended as medical advice, diagnosis or treatment. We practice in compliance with the Medical Board of California. (800) 633-2322 – mbc.ca.gov
Hautspa Medica is a medical spa located in Newport Beach, California. We regularly serve patients from surrounding areas in Orange County including Irvine, Costa Mesa, Santa Ana, Lake Forest and other nearby areas in Southern California.